Tom Kelly - (Client's Representative)
"From design to build, was less than 18 months … and on budget — that's impressive."
I think some of the happiest years of my life were the two years I spent going up there three times a week and working with the EcoBuilders team.
Everybody was trying to make it a good job, and it was a happy job.
That may sound silly, but not all jobs are happy. This was a happy job. Everybody wanted to be on this job. Everybody was happy to be working there. It was just a happy environment. I miss it now.
Backstory
"Carl and I go back about 30 years. I've been working for him as a financial manager, as an operations manager, as a personal financial management consultant. He has come to trust me completely in every respect.
Several years ago Carl told me they were building a house up in Putnam County and he was getting a little uneasy with how it was going.  So he asked if I would look things over.
He showed me the plans drawn up by the architect that they had been working with for over a year, and after about an hour I said, "These are probably the worst plans I've ever seen for a house."
The budget was way out of  line. I started looking at the past billings and I realized that they were stealing from him big-time. The budget was so padded that it was criminal. It was time to source a new architect and a new builder.
When Carl and Martina decide to Hire Rick Alfandre and his construction company, EcoBuilders, Carl asked me if I would personally oversee the project on their behalf.
Project Goals
You have to really understand the technologies... which ones are voodoo and which ones are genuine. I needed somebody who wasn't just a poser—someone who really knew this stuff.
The original architect made a big deal about how he was all about 'green' and ecology. Once I started working with him, I realize he didn't have a clue about the latest technology at all. He thought you just had to throw a lot of money at it.

I needed somebody that was honest, because, remember, architects and builders work on a percentage of the size of the job, so there's a real incentive to make the size of the job bigger. That was what was wrong with the previous guy. He was trying to make it as big as possible so he could retire.
We had to have somebody that was willing to let the owner's representative have a major part in the project without it getting in the way of his ego. Some builders and some architects would really resent this and view it as somebody who would be stepping on their toes.
We needed somebody who could work quickly, and boy did they deliver. The design phase was completed in about three months.
… And we needed an architect that had the ability to really get to know the owner and build a house that suited them… because frankly, if you're just going to build a house, you might as well just buy a house that's already built.
The Design and Build Process
From design to build, was less than 18 months … and on budget — that's impressive.
Rick is not only an architect, but also has a construction company called EcoBuilders, so this was a 'design-build' contract, which saves time.
There's no communication breakdown between the architect and the builder, which is often an issue in construction. (... where the builder doesn't quite get what the architect had in mind.)
And if you want to talk about the wonderful working relationship during the construction phase, you need to go no further than EcoBuilders' construction manager.
Once the design was done, most of the interaction was with the construction manager as the foreman. He was responsible for helping us select the subs. When I say 'helping us select,' very rarely would we go against his recommendations, but the final decision on each sub was the owner's. That's just the way it is.
... But EcoBuilders would bring us quality subs. We would meet them, we would evaluate them, we would look at their proposals, and jointly we would select them. EcoBuilders and I worked together really well during that project.
One of the most important things in a major construction project is the way the general contractor and the subcontractors work with each other.

Everyone was always working together, listening to each other's views, respecting each person's opinion and coming up with a answers.
I really enjoyed working with those guys. I'll tell you, if anybody who was thinking of building a house ever called me, I would say, 'You can't do better than those two.' You just can't do better.
The Results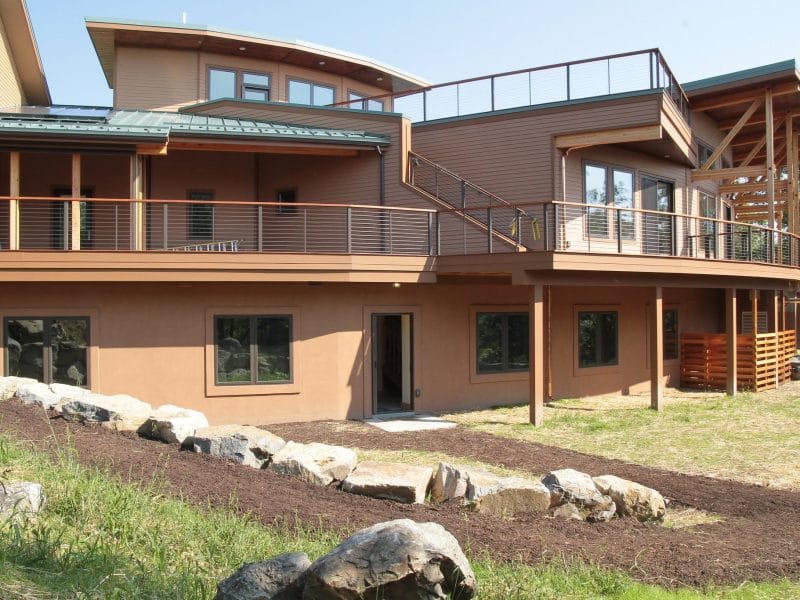 It wasn't just building a home that's good enough, it was building a home that's as good as it could be.
The house is full of the latest technology. I'll give you an example where being on the leading edge like Rick is, saved us a fortune. The original architect's plans called for geothermal wells to be dug.
... Why doesn't everybody have a geothermal well? Because they cost a fortune to build and the equipment for the heat transfer is very expensive.
I said to Rick, 'What do you think?' and he said, 'That's old school thinking ...The old school thinking was, let's think of efficient ways to create heat and cooling. The new school of thinking is, let's think of efficient ways to seal the house so that you don't need powerful heating and cooling.'

So, we spent a lot of money on the envelope. As a result, the house is pretty much airtight. We pressurized the house and used smoke guns to find any leaks, and we caulked.
'For a 7,000-square-foot house occupied by an elder couple that keeps the house at 76 degrees, most people would run out of money paying their energy bills. Their electric bill is actually about the same as my electric bill in my 1,000-square-foot condo.'
Even after a year and a half, Rick is still keeping track of their electric bill and their utility bills so that he can judge the value of the efficient things he did. He doesn't just build it and walk away.
... And for a house of this size and complexity, it's absolutely amazing how little has gone wrong with it since they moved in.
The Details
We used that same rock to build the retaining walls that grace parts of the home and parts of the property. We took the trees that we cut down and had them milled into lumber, which we used for the interior cabinetry. This is not only good for the planet, but it is a tremendous source of pride for the owners, that they basically left onsite that which they disturbed to build their home.

There's no end to the source of pride they have, knowing that they're producing more electricity than they're using and the meter is running backwards. They're also proud to tell people they have a 12-kilowatt electric system on the roof that on summer days, and even some winter days, produces more electricity than they are using.
Not everything we did was just to be ecological. Lots of the things we did paid for themselves quickly. All the walls, the floors, the foundation and the roof, all have nine inches of foam insulation—high-density foam.
Some of the things we did were no-brainers in terms of payback. For example, there's an indoor pool. It's gigantic and it's deep. It holds 30,000 gallons of water. People who have pools are always complaining about how much it's costing them to heat their pool. This is an indoor pool, so it's not subject to the cold weather, but on the other hand, we don't shut it down for the winter, so it runs all year, and it's kept at 90 degrees—year round.

We ended up insulating that pool with a foot of foam. It probably ran us $6,000, because we did it before we built the pool. (My background is financial management and I'm a CPA. I'm a numbers guy…) That easily paid for itself in two years, because I can see how little it costs us to heat this pool.
How things are now …
This house is Carl and Martina's. There's no doubt about it. We wanted a house that, as big as it is, doesn't live like a big house ...
You've walked into big houses that everybody thinks are impressive and you think, 'man, this is a cold house. It's fancy all right, but it doesn't look like the kind of house I'd want to live in.
This is a 7,000-square-foot house that looks livable. You can see how somebody could be very comfortable in this house even though it's gigantic.
The natural surroundings of the site itself were also respected. We did as little destruction to the site as possible. ... They loved having the natural rocks sticking out of the ground near the house.
It's more perfect than I could've imagined.
We not only got the house, we not only got the budget, but we got a wonderful experience. Working with Alfandre and EcoBuilders was just a delight.
They're great people. They should be building a lot of luxury homes.
Find out how Alfandre Architecture can deliver your project seamlessly from design to build.
If you like this post, please share ...