Net Zero Carbon Neutral Home, High Falls, NY
This Net Zero Carbon Neutral home is situated on a beautiful 20-acre wooded lot in High Falls, NY, and has been positioned for passive heat gain. The 1,100 SF house is super insulated and very airtight (0.6CFM 50). There is a 1,000 SF wraparound deck and enclosed and covered porch built from locally sourced rough-sawn hemlock. This smart house has the capability to manage the lighting from a phone, using a Lutron lighting system.
Airtight Construction
The walls were constructed using an ICF insulated concrete form system. The roof is built with 20-inch deep parallel cord wood trusses which are sheathed, top and bottom with an airtight sheathing and then insulated with dense pack cellulose.
Net Zero Carbon Neutral Heating and Cooling
The home is heated and cooled with a ground source heat pump system, also known as geothermal. A radiant heated slab throughout the house provides all interior heat. An air source heat pump hot water heater is provided for domestic hot water. An Energy Recovery Ventilation (ERV) unit continuously keeps fresh air flowing through the interior space. All of the windows and doors are triple-glazed with a U factor of .2.
LEED, Indoor Air Plus, Zero Energy Ready, Energy Star, and Carbon Neutral Standards
The home was built to meet LEED for Homes, EPA Indoor Air Plus, DOE Zero Energy Ready, Energy Star, and NYSERDA Carbon Neutral Standards.
Design Plan Build Project
Designed, planned and built to the highest efficiency standards, completed Spring 2023. Find more about its construction here on the EcoBuilders website.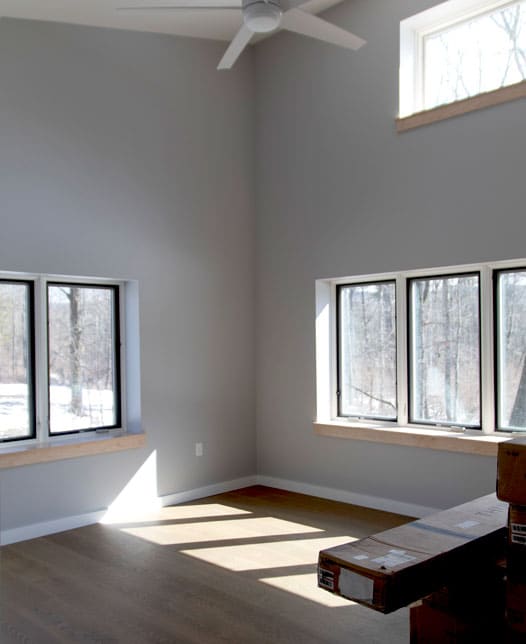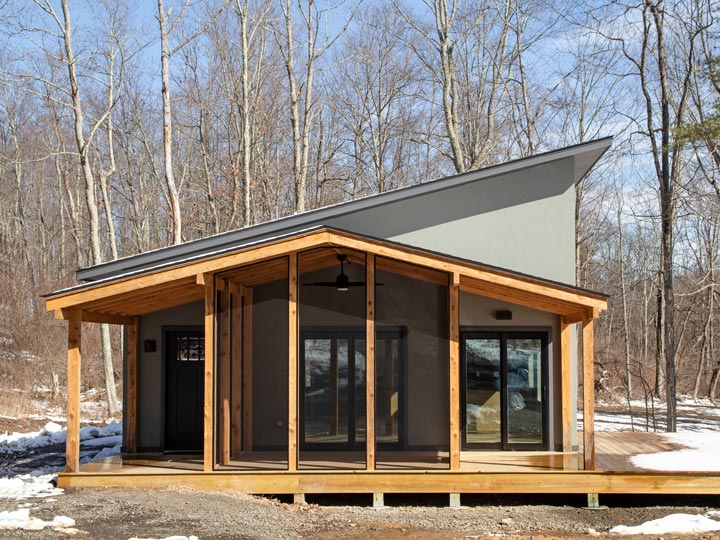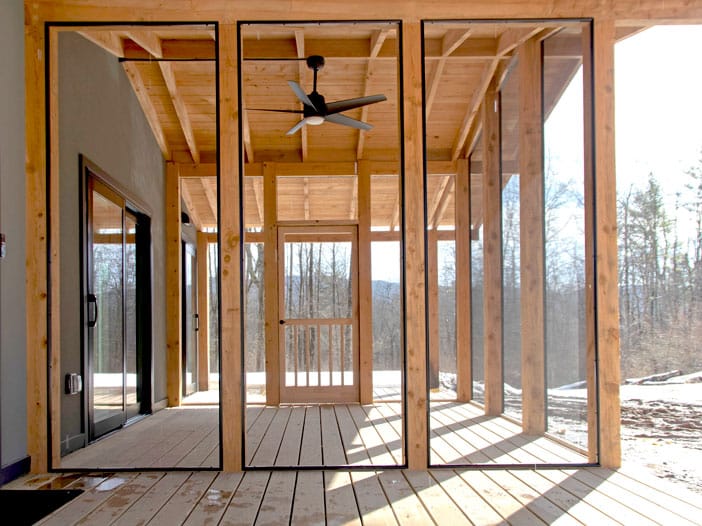 A lean-to garage port has been designed and will be constructed in phase 2 with the intention of photovoltaic installation on the roof.
Find out how Alfandre Architecture can deliver your project seamlessly from design to build.
If you like this post, please share ...