Martina Leonard - Client 
"I don't think a day goes by that we don't get up in the morning and think of how lucky we are to be living in this beautiful house."
From The Client ...
Before Rick, we were working with another architect and builder, but we weren't happy. It was going to be outrageously more expensive than we had planned. And we had totally lost confidence in the builder because of some of the things that he'd done without our approval.
We knew we needed to find another architect and builder who were committed to environmental building, who had more experience and really knew what they were doing, not just "greenwashing" the project. We were very lucky, very fortunate, to find Rick.
Project Goals
We were committed to doing as little environmental damage as possible.
From reading magazines and doing some research before, we had looked at something called "Deck House style," some of the pre-fab, very clean, modern looking houses. We also knew we wanted to build an indoor pool.
One of the things that interested us about the Deck House was that they were supposed to cause much less material waste, since they are pre-designed and thought out by computer.
We were pretty committed, even though we were building a new house, to doing as little environmental damage as possible. Karl grew up in Norway, and it wasn't the "throwaway" culture that we've all adapted to now. I grew up in a family that was very conscious of environmental issues and pollution. Our commitment to the environment goes way back. It was something that was always very important to both of us.
We knew we wanted something that would integrate the outside environment to the inside.
One of the things we loved about this landscape is that it had a lot of beautiful rock outcroppings. We wanted a house that looked like it belonged in that space and wasn't just clunked on top of a beautiful piece of property, ruining it.
The Design and Build Process
It was just such a seamless project.
Another thing that really appealed to us was the fact that it was an architect-build operation, that they would be able to build it as well as design it. We had already lost quite a lot of time working with the original architect.
When it came time to put the hammer and nail and boards together, we didn't waste any time having to translate what was going to happen [between architect and builder]. The construction manager for EcoBuilders was at every meeting from the beginning. By the time we actually started to build, he already had sub-contractors lined up. He was ready to go from the day we signed the contract.
If the construction manager had questions about the design concept, he was close enough to Rick to be able to ask that question without going through any formal process, back and forth, between builder and architect… or standing in a field with plans and saying, "I wonder what the hell he had in mind when he drew this corner?"
EcoBuilders' construction manager was instrumental in getting the project coordinated correctly, so things weren't delivered before some other part of the process was finished and ready for it.
We frequently were here while the work was going on, when there were six or eight or 10 different contractors in the house at the same time. A lot of these subs had worked with Alfandre and EcoBuilders before, and they worked terrifically together. Just the collaboration and the harmony of the whole project... it made us feel good to see how well the project was being assembled.
Every step of the way, they helped us understand what was happening and what our options were. They were very good at explaining each option, such as the cost differential and the durability of the different products.
When we were deciding on the materials for the siding, they described very carefully all the pros and cons of using each product. They built samples for us to show what it would look like on our property.
It was the same for the stone work on the property. The stone worker built four different models of walls that would demonstrate the different types of stonework.
We felt very confident in their knowledge and guidance. It turned out that our confidence was well-founded.
The Results…
The fine details of the project turned out way more beautiful than anything we had pictured.
They went above and beyond what we had expected. They suggested a lot of additional details, things that we hadn't thought of, that integrated beautifully with the project.
There's a nook that they built that is a huge seating area, with a coffee table in the middle. That was a design that we had put into a cabin that we built in Norway, and it's our favorite, favorite part of the cabin. Rick replicated it and expanded it proportionally to fit this house, and in this house, too, it's our favorite spot.
They had the idea, which turned out terrifically, of salvaging the trees that had been cut down to build the house, to have the wood milled and cured and used in a lot of the woodwork in the house. That makes it really, really special.
The stone work was all done using stones from the property. The original architect wanted to use a stone quarry in Connecticut. Just the thought of bringing in stones... We had so much stone here that was really beautiful and could be used. EcoBuilders found a really excellent stone worker who did a beautiful job of building stone walls using all very local materials.
Rick spent quite a bit of time getting to know us, getting a sense of who we were and what would make us comfortable. He was very interested in what we wanted, and was very receptive to our design ideas.
Karl has had some physical problems, so Rick put everything that he needed to have access to all on the same floor. The original architect had designed the pool to be built on a lower level, and Rick just didn't think that that was appropriate for somebody who was having more and more trouble getting around.
They put a layer of insulation under the pool, between the rebar and the concrete, so that we wouldn't lose a lot of the heat from the pool into the ground. That certainly would never have occurred to us.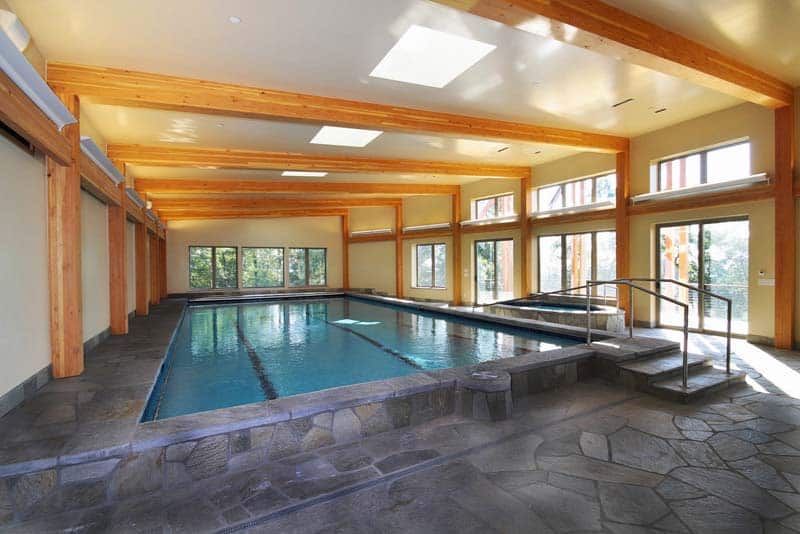 When we have company visit, they frequently stay over, so Rick designed the lower level with three guest bedrooms. He came up with the idea to put a little kitchenette there so that house guests could feel free to fix themselves a cup of coffee or something. That has worked out very well.
In our meetings, we talked about having an overhang over the front doors, so that if somebody rang the doorbell and it was raining, they wouldn't be standing out in the rain if it took us a few minutes to get the door. They added this really beautiful covering over the walkway up to the door. It was Rick's own design and just turned out beautiful.
How Things Are Now
It's a very comfortable and gracious space to be living in… It's really increased our quality of life.
It's just made our lives so peaceful, especially being able to have the pool here where we can swim a couple of times a week. And to have more space... We had an apartment in the city that had a kitchen that's about a quarter of the size of the kitchen we have now. This kitchen is a nice, wonderful place to hang out. It's got a big, beautiful island.
The house is brighter. The rooms are bigger. It's just a much more comfortable space to live in. The best thing was the quality of the work that they did. We are very happy with everything. I don't think a day goes by that we don't get up in the morning and think of how lucky we are to be living in this beautiful house.
We would not hesitate for a moment to recommend Alfandre Architect and EcoBuilders to anybody ...especially if they're interested in sustainable building.
See Part 2 of This Case Study
This project was managed by the client's representative, Tom Kelly. To get a more in-depth look at some of the technical aspects of the project and what it was like to work with Alfandre Architecture on a design/ build project, read his full commentary here.
Find out how Alfandre Architecture can deliver your project seamlessly from design to build.
If you like this post, please share ...