For Immediate Release
October 28, 2021
Contact:
Linda Engler
​​​Alfandre Architecture
​​231 Main Street
​​New Paltz 12561
845-255-4774
OPEN FOR BUSINESS – New Paltz Police and Courts Have a New Home
With a focus on air quality and energy efficiency, Alfandre Architecture has designed a new 2-story municipal facility within an existing pre-engineered metal building at 59 N. Putt Corners Road in New Paltz. The 16,800 SF building will house the Town of New Paltz Police Station, Courthouse, Court Offices and provide public meeting space.
The Police Department moved into their new offices in late September 2021 and is conducting day-to-day business from this location. Contractors are working on the finishing touches throughout the building in anticipation of court employees moving in soon.
The facility achieves its ultra-low energy use through the thoughtful coordination of multiple building systems, including increased insulation and air tightness, energy efficient utilities and state-of-the-art HVAC systems.
Increasing the overall insulation and airtightness of the former warehouse building was a priority to guarantee overall energy efficiency. Insulation values that meet or exceed NYSERDA requirements were achieved through improved air-sealing, installing new windows and doors and adding insulation to the walls and roof.
Water use is decreased by the installation of low-flow fixtures throughout the building. Low-flow fixtures are designed to save water and energy over conventional fixtures by using fewer gallons of water per minute.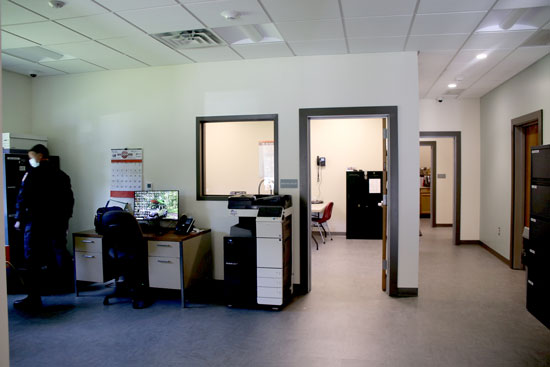 Electrical use is reduced by the installation of LED lighting fixtures throughout the facility. LED lights consume 80-90% less energy than incandescent bulbs, emit less heat, produce more light, have a longer life, and are more durable. Additionally, occupancy sensors have been installed on each light switch to reduce the amount of energy that is used.
Using two separate fans and duct systems, the Energy Recovery Ventilator (ERV) draws fresh, clean air into the building and removes stale indoor air. A heat exchanger pre-heats (or pre-cools – dependent on the season) the incoming fresh air by transferring the energy between the air streams. In addition to retaining the temperature of the indoor environment, the ERV captures contaminants, pollutants, allergens and pollen; providing energy-efficient, healthy indoor air.
A Variable Air Volume (VAV) system is used throughout the building as well, modulating the temperature for each room. This system enables energy-efficient HVAC system distribution by optimizing the amount and temperature of distributed air. Occupancy sensors for HVAC functions have been installed so that heating and cooling occur when needed. Unlike other air distribution systems, VAV systems use flow control to efficiently condition each building zone.
This is truly an upgrade for the Town of New Paltz; it will be a place they will be happy to call home for years to come. We are proud of our role in this project and grateful to have been selected as the architecture firm on this project.
For more information, please contact our office at 845-255-4774.