Tom Passero - Prosthetic & Orthotic Associates
Business Owner
              "I love this building… it's  my home away from home."
Backstory
I had a 20-year-old growing business in Orange County, Middletown New York. I'd been a tenant for 20 years, and decided that I wanted my own building. Having no experience with building — I've lived in the same house for 40 years — I had a lot of insecurity about the process of site selection, the design, the workflow, and all of those things that are important, for the return on investment in bricks and mortar to really pay off.
Project Goals and Choosing Alfandre
We wanted it to be a healthy building.
This building is where most of my staff works, and we wanted it to be a healthy building, for environmental health and for worker comfort.
This being my only investment of this size (other than my home) in my whole life, I was cautious and concerned. I didn't want to build a "box" that you see so many of. I didn't want to necessarily build it as cheaply as I could.
I had already engaged two other architects for bids, when Dick Riseling, a local public radio host on WJFF in Sullivan County, recommended I talk to Rick Alfandre. All told, I ended up interviewing three architectural firms in two counties.
I did a little due diligence on all three firms. I went to some of their former buildings and nosed around and asked questions. I've lived in the county here for 40 years; there's gossip and stories. Rick has a good reputation. Some of the people that were competing with him... there were issues with cracking foundations after two or three years.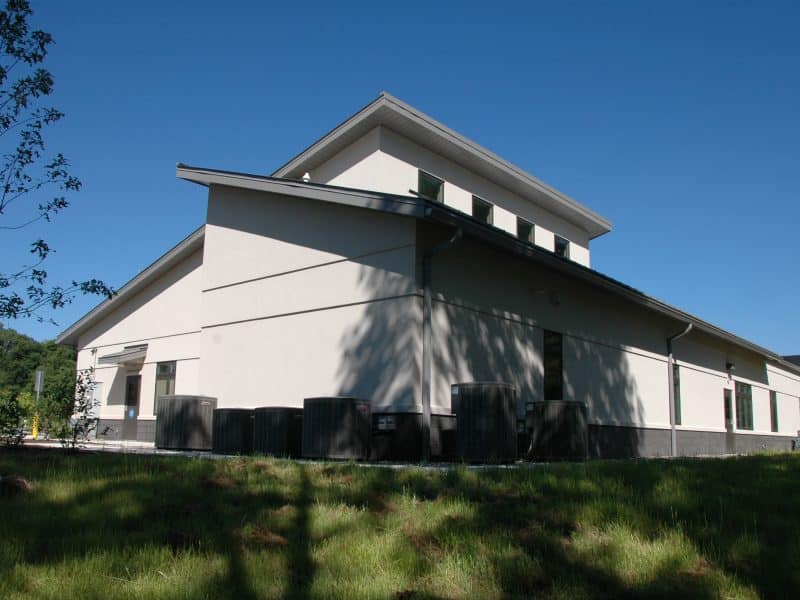 What also drove me to Rick was his consciousness about productivity. I think the other two firms were really more about cost. Their focus seemed to be that they would build the cheapest building they could build for me. They were going for less quality, less innovation, less long-term considerations than Alfandre did.
It was just an easy choice for me to choose Alfandre. They were fair. Prices were reasonable. It's a local firm. They work hard. They know their business. They have a focus on their customers.
Seeing Rick's work, being in his office, sort of just getting a sense of him, knowing that this process was going to be personal... They just brought the right elements to make me drift into the decision. It wasn't really a single moment. It was an accumulation. Once I got there, there was no hesitation about feeling that I had made the right decision. It was borne out through the process.
The Design and Build Process
Rick brings a balance of aesthetics, knowledge of technology, and reasonableness to a process that can be stressful, costly and unnerving.
Rick held my hand right from the start and came to the sites I was considering. I had picked another site for this building, but Rick actually talked me out of it because the elevation would have increased the site prep costs. His depth of knowledge helped me decide which piece of property made the most sense, given my budget. Once I purchased the property, we set about the process of designing the building.
In my former building there was a lot of wasted space and time because the layout was wrong. Alfandre and his team did a comprehensive workflow analysis of how we see patients, how we manage them from their first visit to their last visit, what sorts of tasks are done by different staff people. With Rick's analysis we went from under 50% efficiency to a targeted 80%.
Rick converted that workflow analysis into an actual floor layout, showing where the patients went, where the admin team was, where the clinicians worked, where they sat and did notes, and how they got back and forth to all the different stations of work they're involved in. Going back to the fact that I had never built anything other than maybe a woodshed, this was extremely helpful to me.
Then they evaluated everything from the consumption of energy, to the types of systems for HVAC, the windows, insulation, noise… again, maybe this is standard practice for any architectural and design firm to do, but for me, it was brand new, and it was absolutely priceless.
That's when the designer came in and did the next important step, the aesthetics of the building: the lighting, the interior design, the exterior surfaces — using a lot of recycled materials, which was important to me. They gave me choices. They gave me drawings. They presented materials for me to look at and touch.
I can't talk enough about the building stage, which was run by EcoBuilders, Alfandre Architecture's building operation. EcoBuilders picked up the baton from Rick and their construction manager held my hand through the whole building process. He was skilled at communicating why things were a certain way, and explaining when we had to make some adjustments to the budget. The decision was always mine, but their construction manager did a fantastic job of managing the crew and getting the building up.
I think the sign of a good relationship is when it's all said and done, and everybody is still happy with each other. I don't know how they feel about me, but I feel great about the services I got from Rick and his whole crew.
All of their sub-contractors did a good job, and treated me fairly. If I did have an issue, I didn't have to dig in my heels, because EcoBuilders did that for me. I pointed out what was unsatisfactory, and they handled it.
The Results
Being here is as comfortable for me as being at home.
This building is, in the literal sense, "extraordinary." It's a small building, but it doesn't have conventional lines. There's some creativity to it. I've heard Alfandre's ad on NPR occasionally, saying... I think the byline is "creating spaces and places of lasting beauty." They've done that. This is not an ordinary building. It has some curves and lines that are unique.
It's just a pleasant place to be. For someone who enjoys working, it's important that being here is as comfortable for me as being at home, because it's my home away from home. It's where I spend most of my time.
Before, I'd have headaches that now I don't have. We used non-VOC flooring. The countertops are made of a recycled paper compressed to look like stone. We were conscious of the paints, and conscious of the flooring, and conscious of the lighting, conscious of the movement of air, the presence of outside light, to make it a comfortable place to work.
The building generates about 75% of the energy we consume, from solar panels on the roof. The exterior lights are not light polluting, because they cast light down and are high efficiency.
One of the things that was important to me was the external landscaping. I don't want a lot of maintenance to the landscaping. I don't do it at my home, and I didn't want to do it here. The Alfandre team designed a landscape that was sustainable and low-maintenance, with plants that grow locally. We deliberately grew things that birds like and eat and propagate. We've done mulching to keep down the things we don't want to grow.
What that's done for me is help me to keep my maintenance costs down. We don't have to have somebody here every week cutting the grass and killing dandelions, which I don't mind looking at or eating.
As a matter of fact, I keep beehives on the property here. I'm a beekeeper as a hobbyist. It fits into the whole idea of having a building that's conscious of the ecology without throwing money away.
How Things Are Now
I get endless comments about how nice it is to be in this place.
Recently, on my way home from the airport, I stopped in at the office to get something. I walked into this building at 9:30 or 10:00 at night, and I heard myself say, "I love being here." I enjoy being in this building. It just feels good.
Four years later, this building is still fresh. It's solid and warm and comfortable. I think I'll be dead before it shows any real signs of age.
Patients compliment me on how nice it feels. Some of the adjacent buildings' staff has become friendly with my staff. They like to come over when the weather is nice, and sit in the waiting room and visit with our people. It's just a nice place to be. Happy customers, whether they're patients or people buying things, is an important element of the success of any business.
The change in health care came about shortly after we moved in here. The building helped us to be more efficient and maintain a level of profitability, even in a turbulent time for the industry.
Unhesitatingly, I'd recommend Alfandre and EcoBuilders — and I have, many, many times. I'm very pleased to be able to tell anybody they can feel safe, and there's just a good pathway for an inexperienced person to build a home or an office with the team of people that Rick has assembled, and be really, really happy with the result.
Find out how Alfandre Architecture can deliver your project seamlessly from design to build.
If you like this post, please share ...