Project Summary
As a model for green building, Alfandre Architecture designed this state-of-the-art, ultra-energy-efficient 16,000 SF Fire Station in New Paltz, NY, which will use substantially less energy than comparable buildings. The building is resilient and will accommodate all of the needs of the fire department for generations to come.
The New Paltz Fire Station located at 117 Henry W. DuBois Drive, New Paltz, NY was in the planning stages for many years. After Hurricane Irene and Tropical Storm Lee $5 million was secured for the project from the Governor's Office of Storm Recovery (GOSR), through the NY Rising program created in the wake of area flooding. The Mayor of the Village of New Paltz and local officials had the drive to design the new building sustainably. Alfandre Architecture was hired to work on the project based on their environmentally sustainable philosophy and experience building all-electric buildings, using no fossil fuels.
"The Fire Department is committed to providing exemplary emergency service to the New Paltz Community," said New Paltz Fire Chief Cory Wirthmann. "Choosing to construct an energy efficient building is furthering our commitment to the environment within our district that will ultimately affect the residents and businesses we serve."
Important elements that assure energy efficiency include: insulated concrete form (ICF) walls from footings to the roof. Thermally insulated roof system that is wood and steel framed. Air source heat pumps installed to heat and cool the building and provide hot water. Two energy recovery systems, one in the apparatus bay, bringing fresh air in and exhausting stale air, creating a healthy indoor space for the occupants.
The new fire station features a 10-vehicle drive-thru apparatus bay with exhaust system, radiant flooring, and a decontamination area with an exit directly to the outside. Allowing firefighters to decontaminate themselves and their equipment without bringing pollutants into the rest of the building. The overhead doors are smooth and fast operating to assure quick truck exit and offer maximum visibility. The second-floor mezzanine provides an area for indoor training and drill space.
Located on the south side of the building are administrative offices, a duty room, locker rooms, bathrooms with showers, and a large meeting room with an adjoining kitchen, which features an induction cooktop.
The south-facing roof is configured to support more than 250 solar PV panels capable of 110 kilowatts (kW) of green energy, free of fossil fuels. This will provide power to the building and the grid and would support the equivalent of more than 150 residential homes in the Hudson Valley. The development of the new fire station is meeting today's operational safety needs for the firefighters and the community, consolidating operations to one fire station, and supporting the climate goals of the Village of New Paltz.
See also: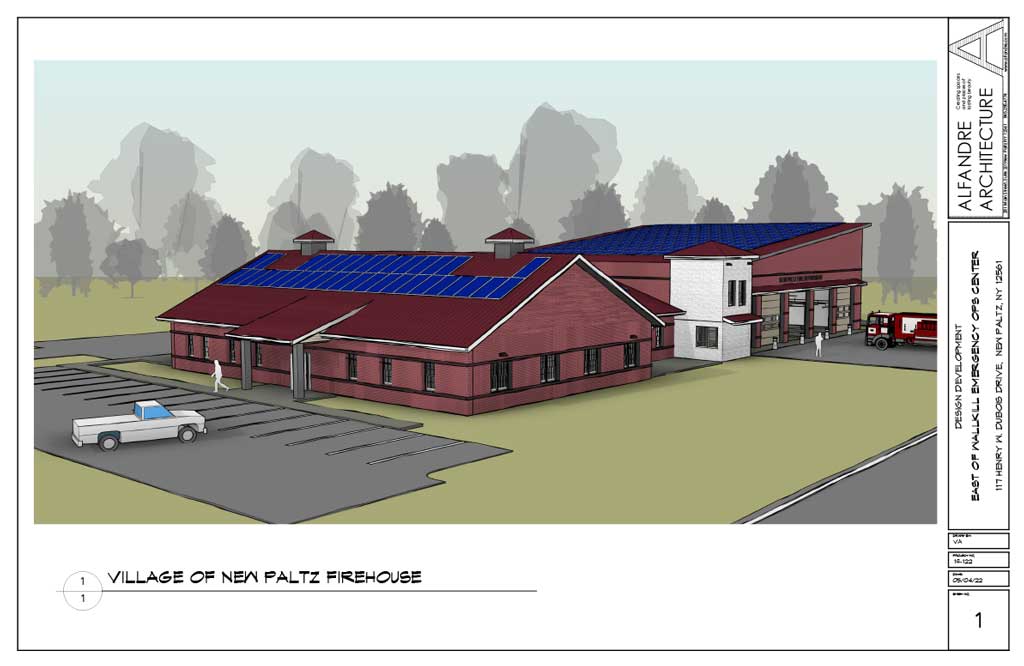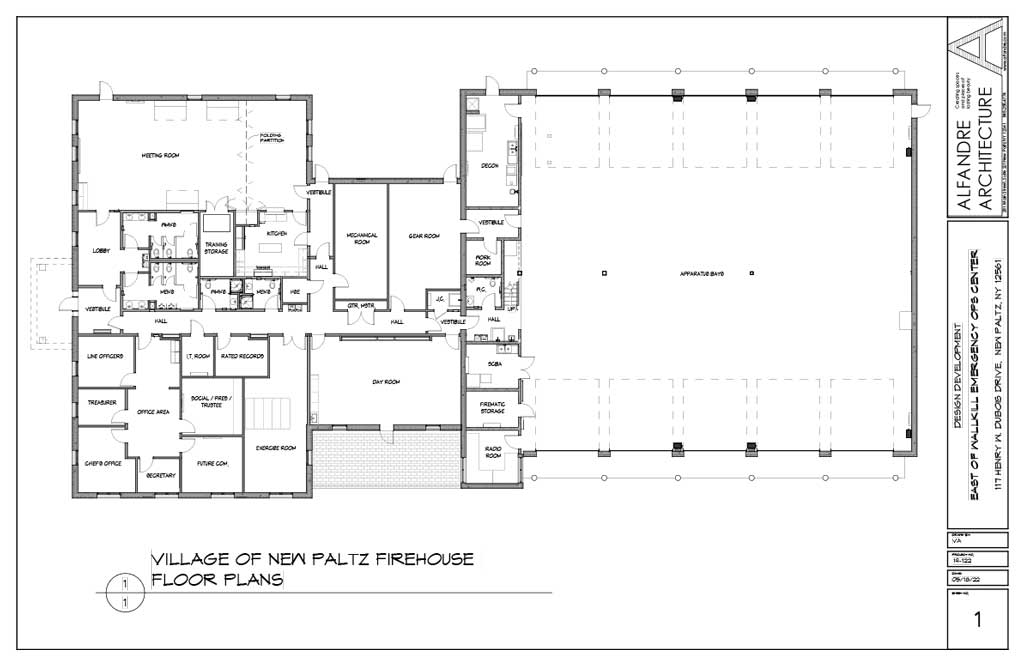 If you like this post, please share ...
Need help with your project?